This apple-stuffed puff pancake is a quick-and-simple breakfast — serves 2-4 from a regular skillet, so you may need two skillets (or use a larger baking pan and double the ingredients). I use a cast iron skillet for this — I have both Griswold and Lodge — but you can use any ovenproof skillet.
(Recipe from Everyday Cooking, p 36. See recipe and the non-apple variation there.)
THE RECIPE PART
Preheat oven to 400. Core and thinly slice one apple. In a cast iron (or other oven-safe) skillet on a stovetop, melt 2 Tbsp butter, then sprinkle with 2 Tbsp cinnamon and 2 Tbsp Sucanat (or brown sugar). Arrange apple slices in the pan.
[Note: If you don't want to use the stovetop, you can put the skillet in the oven while you preheat, then add the butter to melt, and top with cinnamon and brown sugar.]
In a small mixing bowl, combine 2 eggs and 1/2 cup milk till mixed, then stir in 1/2 cup flour (I used half fresh milled whole grain and half King Arthur all-purpose unbleached) and a pinch of salt.
Stir till just mixed; a few lumps remaining will be fine — don't overblend.
Pour the pancake batter over the apples in the pan. Bake in the 400 degree oven for 20-25 minutes, till golden. (Mine could have baked a bit longer, but I was impatient.) Remove from oven and sprinkle with lemon juice (optional, but adds flavor — I spritz a bit of lemon juice from a mini spray bottle). Turn out onto serving plate and sprinkle liberally with powdered sugar.
I forgot that the apples part was on the bottom, so I sprinkled it first, then flipped it out onto my plate so it was apples-up. Of course, then I *had to* sprinkle it again with more powdered sugar.  (Shhhh…don't tell.)
I served half the pan as an adult serving. For a few more people, you could bake it in a larger ovenproof pan or baking dish, doubling the ingredients.
Mmm-mmm! Look at that apple layer! You can also make this without the apples or spices, then top with jam or fruit and a sprinkling of powdered sugar, or with maple syrup and a side of sausage. What would you put on yours?
A few products you might be interested in….
(Affiliate links give you the same great pricing while providing a few cents here and there to help me bring you fun content here!)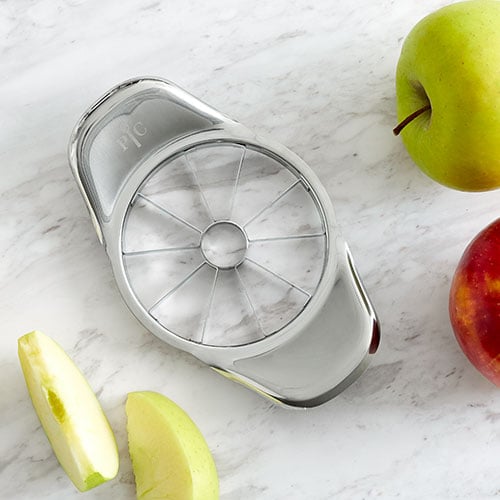 Apple Wedger – Pampered Chef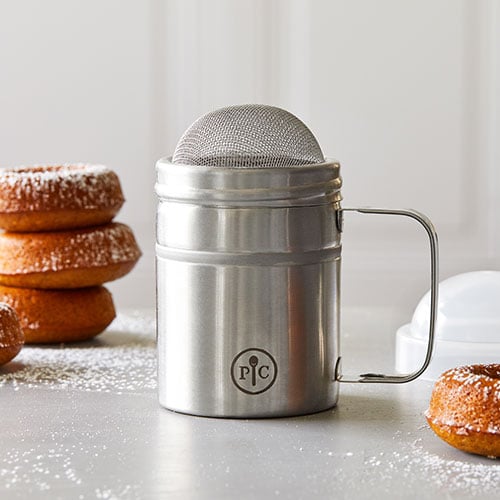 Powdered Sugar Shaker – Pampered Chef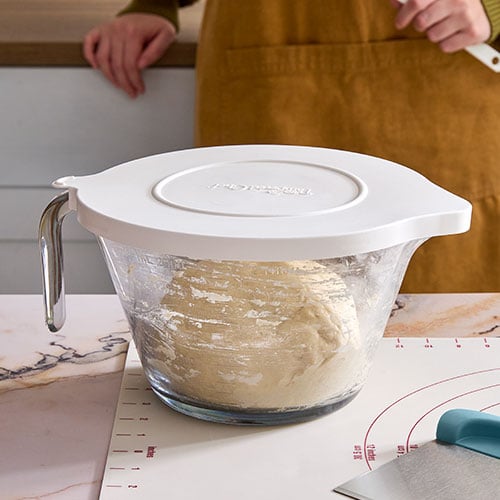 Classic Batter Bowl – Pampered Chef

10 Piece Melamine Mixing Bowl Set Blue