Vicki's Bread Recipe
Makes 2 loaves (may be multiplied; I make 6-8 loaves in my DLX mixer)
Adapted for Electrolux DLX and Bosch mixers; can be made with any stand mixer or by hand.
For video tutorial, click here.
(1) Mix on medium speed with roller/scraper (DLX/Ankarsrum) or on speed 2 (Bosch) (or paddle of KitchenAid mixer) till well mixed:
2 cups very warm water
¼  cup mild or extra virgin olive oil (TIP: Measure oil first, then honey – the honey will slide right out of the cup.)
¼  cup honey
2-3 teaspoons INSTANT yeast
2-3 cups flour (I use freshly milled white wheat from my WonderMill; when it is right consistency, it will not be too soupy – more like a stew!)
________________
OPTIONAL:
1 Tbsp dough enhancer or conditioner (opt) or crush a Vitamin C (opt)*
1 Tbsp liquid lecithin (don't have to be exact – pour an approximate drizzle)
2 Tbsp dry milk powder (opt)(or soy or buttermilk) for softer crumb/crust
1 Tbsp wheat gluten (opt)
___
At this point, let this all sit and "sponge" for 20 minutes (see photos).
In a time pinch, you can skip either the sponge OR the bowl rise (or both, in a REAL time crunch), and simply shape and rise in pans.  If you don't sponge, then just continue as follows at this point..
(2) Add 1½ tsp salt and 2-3 cups flour (more wheat, or unbleached white). Mix until it starts to clean side of bowl. (KA and Bosch users: change to dough hook for this.)
It will still be tacky/sticky, but should not be gooey. If it's too gooey, add a little flour, but not too much or the bread will be really dry. You want to add the flour now and be done with it, or the flour you add later will not have a developed gluten because it won't have kneaded long enough.
(3) Once you have enough flour (better too little than too much), set timer to knead on medium speed for about 8 minutes for DLX/Ankarsrum or 5 min for Bosch (spelt needs less kneading time: about 4 minutes).
Cover mixer bowl with a clean dish towel and let dough rise till doubled in bulk, about 45-60 min. (Option: Set mixer timer for 8 minute, but set kitchen timer for 40 minutes; come back then and check dough.)
(4) Punch down dough. Using oiled hands on oiled counter, divide dough into two parts and shape into loaves. At this point, I knead it by hand a few times if it's still tacky to the touch, and that usually takes out the "sticky." Let rise in prepared pans till double in bulk, then bake 30 minutes at 350. Remove from pans to cool on racks. Bread is done when an instant-read thermometer reads 195-200 or bottom sounds hollow when tapped.
(Note that I made one full-size loaf, shown in back of cooling loaves — hence the size difference)
HELPFUL EXTRA NOTES FROM VICKI:
A basic guideline is to begin with the same amount of flour as you have liquid. Then add roughly that amount of flour AGAIN when you incorporate the additional flour. Bread baking is not an exact science because amounts of flour needed will vary depending upon the humidity of your kitchen, moisture level of the grain you used, type of grain (i.e., spelt needs less liquid or more flour), etc. This recipe gives you a basic starting point. The resulting dough will probably be a bit slacker than what you are accustomed to; this will help you make a lighter (less dense) loaf. You may weigh ingredients for greater accuracy (I haven't mastered the weights!). The only things I really measure are the water & yeast, and sort of the flour.
As you add additional flour (step 2), the dough may start to climb the roller. To prevent the dough from climbing too high and making a mess, pull the roller in toward the center of the bowl as it rotates, until you reach the point at which the dough stops climbing; lock the roller in place at this spot by turning the large plastic "screw" at the back of the roller's metal arm. Roller will still move in and out, but not past this spot.
I bake in 8½ x 4½" pans; the bigger ones (9×5) tend to make flatter loaves. My husband really like the mini loaves, too (half the capacity of a regular pan); here you see six half loaves and one 8.5 x 4.5 pan, plus the baking sheet.
If you use regular yeast instead of instant, use 1 Tbsp yeast and combine with a bit of the warm water and honey before adding to the dough.
You can vary the grains you use; just remember to keep the low/no-gluten grains to no more than ¼ of your flour. Most of your grain for yeast breads should be a combination of high-gluten grains:  wheat, spelt, or kamut.
*You can buy dough enhancer (different than dough conditioner). It generally contains gluten, ascorbic acid (vitamin C) and diastatic malt powder. Use about 1 tsp per loaf.
____________________
 I grease my pans with liquid lecithin and mild olive oil: Mix 2 parts oil with 1 part lecithin (about $4.95 for a 32 oz. bottle at Ukrop's or the health food store – do NOT refrigerate!) and spread with pastry brush or whatever. This is all that's in Pam when you buy it (plus the propellant; but don't try this in your PC spritzer – the lecithin clogs it – I should know!). The oil alone doesn't keep the food from sticking; you need the lecithin. This mixture works great for eggs, muffins, etc. I keep a little bowl of it with a pastry brush on the counter, and use no other no-stick stuff. Bread pans prepared like this only need wiping out, then washing occasionally.
This recipe can also be used in any heavy-duty mixer with a dough hook. Or it can be made by hand by mixing ingredients with electric mixer or heavy whisk before sponging, then mixing with a wooden spoon and hand kneading from that point on. When hand kneading, you will need to work with floured hands on floured counter, working in flour as needed to keep dough un-gooey, adding only as much flour as absolutely necessary.
 See Everyday Cooking for the following variations:
SWEET ROLLS
HERB BREAD
CINNAMON BREAD
BREAKFAST BREAD
BRAIDED LOAF
FLAX LOAF
BROWN BREAD
DINNER ROLLS/SANDWICH BUNS
A few products you might be interested in:
(Affiliate links – same great pricing for you, a bit of spare change for me so I can continue to bring you fun content!)
Everyday Cooking by Vicki Bentley

Bosch Universal Plus Stand Mixer Baker's Package with Additional Baking Attachments
Ankarsrum Original 6230 Black Chrome and Stainless Steel 7 Liter Stand Mixer
Bosch MUM4405 Compact Tilt-Head Stand Mixer with Pouring Shield, 400 watt, 4 Quart
NutriMill Artiste Kitchen Stand Mixer (Black Trim)
Powerful Electric Grain Mill Grinder for Home and Professional Use – High Speed Electric Flour Mill Grinder for Healthy Grains and Gluten-Free Flours – Electric Grain Grinder Mill by Wondermill
KoMo Classic Mill, Beechwood
Saf Instant Yeast, 1 Pound Pouch (2-Pack)
Saf Instant Yeast, 1 Pound Pouch
Food Scale, Homever 15kg Digital Food Scale with 9×6.3 in Big Panel, Digital Kitchen Scale with 1g Accuracy and Back-lit LCD Display. (silver)
OXO Good Grips 5 Lb Food Scale with Pull-Out Display
ENNSUN Multi-purpose Stainless Steel Bench Scraper Chopper, Pizza Dough Scraper & Chopper & Cutter with Good Grip Handle
Netted Dish Cloth (set of 2) – Norwex

ThermoPro TP03 Digital Instant Read Meat Thermometer Kitchen Cooking Food Candy Thermometer with Backlight and Magnet for Oil Deep Fry BBQ Grill Smoker Thermometer
USA Pan 1140LF Bakeware Aluminized Steel Loaf Pan 8.5 x 4.5 x 3-Inch Small, Silver
Chicago Metallic Commercial II Non-Stick Mini Loaf Pans, Set of 4
Chicago Metallic Commercial II Non-Stick 1-Pound Loaf Pan
Chicago Metallic Commercial II Traditional Uncoated 1-Pound Loaf Pan – 49042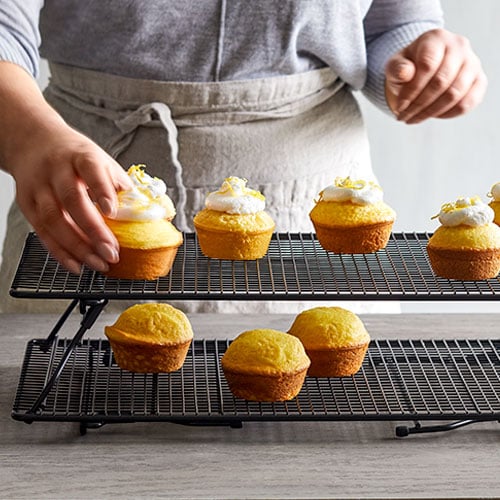 Stackable Cooling Rack Set – Pampered Chef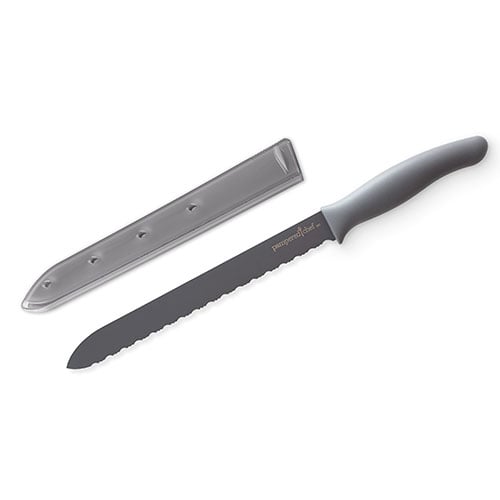 Bread Knife – Pampered Chef

Ankarsrum Deluxe Package Add-On Bundle