This is just a quickie video tutorial of the bread-making process for making sandwich bread using my Bosch Universal Plus mixer. ( Need a mixer? Want a mixer? I can set you up!)
This particular batch is made of two thirds whole grain flour, but you can use whatever higher-gluten flour you choose–mine is hard white wheat, a smidge of rye, and one third unbleached all-purpose flour. (No barley, oats, rye, etc unless mixed with about 3/4 total higher-gluten flour…they don't have enough gluten on their own to rise well–but that's a different post….)
The recipe is in the photo tutorial as well as in Everyday Cooking, so I won't cover all that—you'll hear the additions on the (noisy, non-professional) videos. (I did not use any of the optional ingredients listed there, but I did toss one egg into the triple-recipe mix in lieu of the lecithin.) I've broken the videos into "chunks" so you can watch at the various stages as you go, if needed.
1. Combining the ingredients. First I added all the ingredients to my BUP bowl (I am using the Artiste lid right now–I like the swivel opening). I didn't think of recording until it was already mixing, but I am guessing you've got that part down pat. I used about two thirds freshly milled whole grain white hard wheat with about a cup of rye for fun, and the rest all-purpose. For the initial mixing, I use the wire balloon whisks and the scraper attachment to make my job easier.
[NOTE: In the video, I mention that the "sponge" will replace the first rise. Yes, it can…so I could have added my remaining flour and the salt afterward, then kneaded and shaped to rise in pans. However, I forgot I told you that in the video, and I did the first regular rise anyway.]
2. Oops. Distracted-mom dilemma. This is what happens when you leave a triple batch to "sponge" and miss the timer at the end …..I heard the drip-drip-drip from my office. You may wonder: What is a sponge? It's a pre-ferment stage with about 60–75% of the flour, to improve the bread's flavor and aroma, give it a softer crumb, and improve shelf-life. This can be hours long; if so, stir it down frequently–this was after about 30 minutes……
3. Okay. All cleaned up. Added the salt and flour and started a short knead in the Bosch. At this point, I switched to the dough hook.
4. Kneading. It wouldn't normally make that mess, but I keep opening the cover to video. 🙂  (Camera had trouble focusing with the up-close of the motion; sorry!)
5. Is it ready? Nope. Still too "soft" and not enough elasticity/gluten development to support the bread.
6. The dough is ready to rise. Pretty much passed a window-pane test, but I did end up adding another minute to the knead time after this.
(White bread can generally knead 5-8 minutes; whole grains 10ish minutes.)
7. A quick shape before rising. Before a counter-top rise, I turned the slack dough out onto an oiled counter–looked quite unruly, but a few quick turns convert it to a shaped (but still soft) ball of dough. For a sandwich bread like this, I prefer a slack dough because it gives me a soft, fluffy, tender bread.
NOTE: In this video, you can see that I have allowed the dough to rise on the counter between rolling into a loose ball-shape and then dividing for loaves. You can actually skip that step if you are in a hurry if you have done a strong knead in a mixer such as the Bosch, Ankarsrum, or Artiste, especially if you've done the sponge as the early step.
8. Shaping the loaves. I made a six-loaf recipe but am dividing the dough into three full-size (8.5 x 4.5) loaves and six half-size loaves (my husband likes the minis!). I don't usually weigh my loaves just for our own home use, but did it here to demonstrate. I usually use glass Pyrex full-size pans but thought I'd use these silver Dollar Tree pans today just to show it doesn't have to cost a lot. (The smaller pans are Chicago Metallic; see links at the bottom of the post.)
9. An alternate way to shape the loaves: Form as if making dinner rolls, then elongate slightly while forming. The pulling toward you gives you a taut, rounded top.
10. Clean-up is easy. While the bread is in the pans, rising on the counter before baking, I did a quick cleanup with my Norwex kitchen cloth. Love my Norwex!
11. Ready to go into the preheated oven. I actually could have let them rise slightly higher but I was in a hurry to get the bread done. My loaves are usually a bit higher, but this still gives you an idea.
You may have to finagle a bit to get your loaves into your oven. This is a fairly-new-to-me oven and I've not made this many loaves yet, so I have to get a sense of what fits where, as you see….
Finished baking. I really should have let them rise another 5-10 minutes before baking, for a higher oven-spring, but these will do.
My typical loaves……
The loaves are cooling on my Pampered Chef cooling rack. Remember that some are full size, while others are half size.
The finished sandwich loaf. Delicious, tender crumb, fluffy insides, soft enough to fold (important factor in making a PBJ — not a dry bread!) Not what you would expect from a loaf that is comprised of about two thirds fresh-milled whole grain, including some rye!
A few products you might be interested in:
(Affiliate links – same great pricing for you, a bit of spare change for me so I can continue to bring you fun content!)
Everyday Cooking by Vicki Bentley

Bosch Universal Plus Stand Mixer Baker's Package with Additional Baking Attachments
Ankarsrum Original 6230 Black Chrome and Stainless Steel 7 Liter Stand Mixer
Bosch MUM4405 Compact Tilt-Head Stand Mixer with Pouring Shield, 400 watt, 4 Quart
NutriMill Artiste Kitchen Stand Mixer (Black Trim)
Powerful Electric Grain Mill Grinder for Home and Professional Use – High Speed Electric Flour Mill Grinder for Healthy Grains and Gluten-Free Flours – Electric Grain Grinder Mill by Wondermill
KoMo Classic Mill, Beechwood
Saf Instant Yeast, 1 Pound Pouch (2-Pack)
Saf Instant Yeast, 1 Pound Pouch
Food Scale, Homever 15kg Digital Food Scale with 9×6.3 in Big Panel, Digital Kitchen Scale with 1g Accuracy and Back-lit LCD Display. (silver)
OXO Good Grips 5 Lb Food Scale with Pull-Out Display
ENNSUN Multi-purpose Stainless Steel Bench Scraper Chopper, Pizza Dough Scraper & Chopper & Cutter with Good Grip Handle
Netted Dish Cloth (set of 2) – Norwex

ThermoPro TP03 Digital Instant Read Meat Thermometer Kitchen Cooking Food Candy Thermometer with Backlight and Magnet for Oil Deep Fry BBQ Grill Smoker Thermometer
USA Pan 1140LF Bakeware Aluminized Steel Loaf Pan 8.5 x 4.5 x 3-Inch Small, Silver
Chicago Metallic Commercial II Non-Stick Mini Loaf Pans, Set of 4
Chicago Metallic Commercial II Non-Stick 1-Pound Loaf Pan
Chicago Metallic Commercial II Traditional Uncoated 1-Pound Loaf Pan – 49042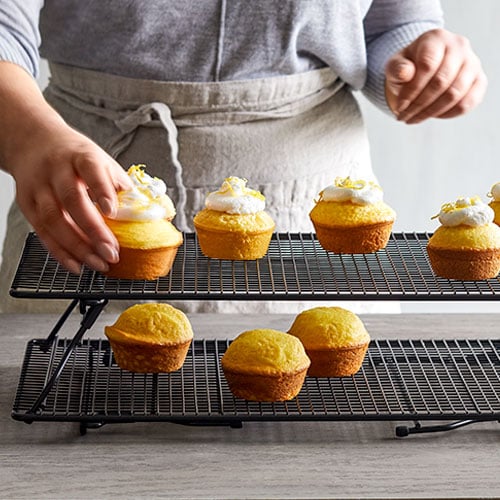 Stackable Cooling Rack Set – Pampered Chef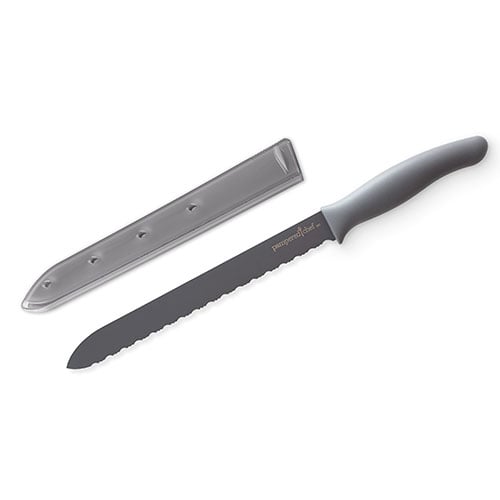 Bread Knife – Pampered Chef

Ankarsrum Deluxe Package Add-On Bundle