Some of our turkey leftovers were just begging to be blanketed in a flaky, warm crust! I know pie dough can be intimidating, so here's a step-by-step for a by-hand flaky crust. (I have a "food processor" pie crust recipe in Everyday Homemaking, so here's a more rustic version — I'll add it to the new book!)
Did you know the proper way to measure flour is to spoon it into your measuring cup? Dipping or scooping your measuring cup into the flour tends to compact the flour and gives you a drier product than you probably want. So….spoon 3 cups flour into your measuring cup/bowl. Add just over 1 cup shortening.  (I usually use butter but had some shortening left from another recipe so I used that up tonight.)
Using a pastry blender (or two knives, criss cross fashion), cut the shortening into the flour to coat the little bits of shortening with flour. This gives you the flaky crust. Some folks will say till it's all uniform, but I'm good with not-too-many-big-chunks. Next photo shows in process, following photo shows finished cutting in.
Add 1/2 cup very cold/ice water and toss with a fork to combine — add a bit of water if needed to get the dough to hold together. You don't want it crumbly and you don't want it too soggy–try to remember the texture of fresh play-do when you were a kid.
When it will hold together when pressed, it's good. This one could have used a tad more water; I remedied that after the photo by wetting my hands to use moistened hands to press it together again — but you don't want to handle the dough too much or it will be tough.
A tad dry….(used damp hands after the photo to add just a smidge of moisture)  – but you get the idea. This large ball of dough will make 3 standard crusts, but I was making a 13×9 casserole dish with a top and a bottom crust — so I divided slightly off-center to give me more dough for the bottom crust (since it has to come up the pan sides).
Rolled out the bottom crust in a hurry. Doesn't have to be pretty. (Good thing)
For the filling, I doubled the Pot Pie recipe from Everyday Cooking. I pre-cooked the beans, corn, and diced potatoes for about 2.5 min in my stovetop Kuhn Rikon pressure cooker…
After the veggies cooked, I dumped them into a colander and used the same pot to melt the butter, then added the onions and some minced red bell pepper (for color and vitamins) till softened.
Meanwhile, I rolled out the top crust in preparation for finishing off the casserole dish.
Then came the flour to thicken/make a roux as a base for the filling. I cooked the flour till slightly golden, added chicken broth and milk….
Added some of that leftover turkey ….
And filled my bottom crust. It was pretty full!
I gently topped the filling with the top crust — again, doesn't have to be pretty –we are going to trim it.
Tuck the top crust under the edges of the bottom crust….
Then crimp the edges to hold in the filling — I crimp mine over the edge of the pan to minimize shrinkage during baking.
I cover the edges loosely with foil to keep the edges from overbrowning–this will be removed about halfway through baking. (No judging the dirty oven! I fed a lot of people this week and haven't cleaned it out yet.)
After 35 minutes at 425….
Time to eat! Mmmm…look at that flaky crust!
A few of my top picks for this dish….
I included a few helps for round pot pies, in case you want a smaller amount.
(Affiliate links, meaning you get the same good deals and I get a few cents here and there to keep bringing you fun content!)
CorningWare Cornflower 3-Quart Baker, 1, 609786677729
Time Timer MOD (Sky Blue), 60 Minute Visual Analog Timer, Optional Alert (On/Off), No Loud Ticking; Time Management Tool
The Miracle TimeCube Timer, 1, 5, 10 and 15 Minutes, for Time Management, Kitchen Timer, Kids Timer, Workout Timer, Green
Sharper Image Timer Cubes
Non-slip Silicone Pastry Mat Extra Large with Measurements 28"By 20" for Silicone Baking Mat, Counter Mat, Dough Rolling Mat,Oven Liner,Fondant/Pie Crust Mat By Folksy Super Kitchen (2028, red)
Ateco 691 Canvas Pastry Cloth and Rolling Pin Cover, 25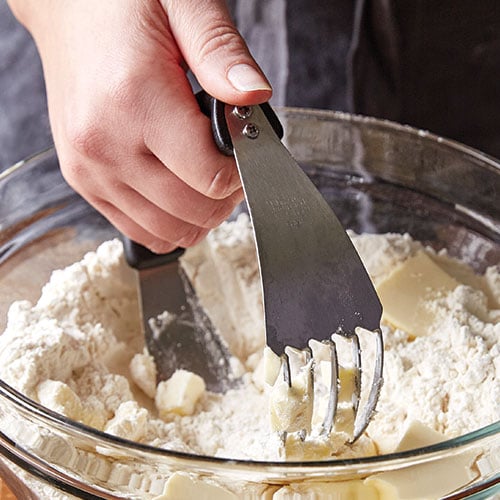 Pastry Blender – Pampered Chef

Everyday Cooking cookbook

Pie Crust Maker Set of 2 11 Inch and 14 Inch
Ceramic Pie Pan, Wisenvoy 9 Inch Heat-Resistant Pie Dish, Non-Stick Pie Plate with Hand Painted Flower Design Safe for Dishwasher, Microwaves, Ovens, Royal Blue
Anchor Hocking 77886 Fire-King Deep Pie Baking Dish, Glass, 9.5-Inch